We are proud to offer ultrasound exams as part of the diagnostic tools available to our patients.
Abdominal ultrasound is a useful tool for diagnosing a variety of diseases including (but not limited to) bladder stones, kidney disease, gastrointestinal obstructions, liver and splenic disease, pancreatitis, bleeding, and tumors. Many diagnoses that we can make by a non-invasive ultrasound exam previously required exploratory surgeries. Ultrasound is a great way to check for pregnancy in dogs and can usually be performed about 4 weeks after breeding. We also use our ultrasound to help guide us for minimally invasive liver and splenic biopsies and for sterilely obtaining urine from the bladder or bile from the gall bladder.
Cardiac ultrasound, known as echocardiography, is needed to help diagnose and manage a variety of heart diseases. Via telemedicine, we work with a boarded cardiologist to get a correct diagnosis and to determine if any medication is needed to manage your pet's heart disease.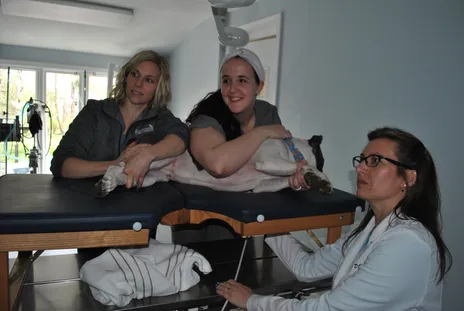 For most pets an ultrasound is an easy procedure. We have padded mats for our patients to lie on during an ultrasound exam. Some very squiggly or anxious pets may need medication so they can relax. In most cases we must shave the area of the body that we are planning to ultrasound. This is necessary because hair decreases image quality, making it more difficult to get accurate results. Since food and gas get in the way of a good ultrasound exam of the abdomen, we ask that you not feed your pet for 12 hours prior to the exam. You do not have to restrict their water intake; it helps to have a nice full urinary bladder for the ultrasound. If it is at all possible, please prevent your pet from urinating for a few hours prior to their abdominal ultrasound.
Feel free to ask us about our ultrasound capabilities the next time you here! If you think your pet needs an ultrasound feel free to call and ask questions or schedule an exam with one of our doctors.

If you know your pet is prone to anxiety, please ask one of our doctors about medication you can give your pet at home orally prior to coming to the hospital.