Ashworth Road Animal Hospital understands what arthritis in pets can do to your pet and how hard it is for owners to manage. No one wants to see your pet in pain. We know all too well the many potential causes of pain in pets, including arthritis – and the many conditions that, if left untreated, can lead to arthritis. Arthritis in pets can be treated by our veterinarians and staff.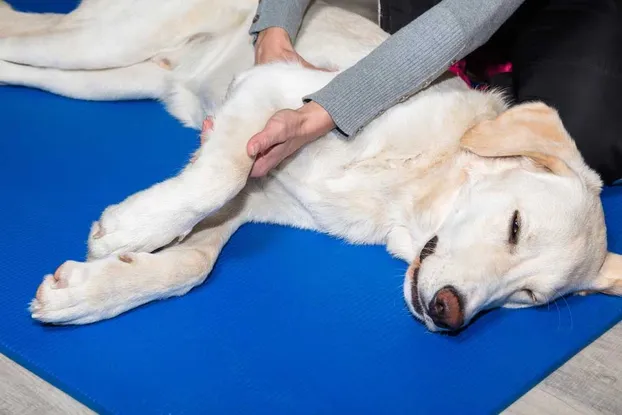 From natural treatments and joint health supplements to leg braces to help support the joints, there are limitless possibilities for helping you and your pet manage various stages related to arthritis pain.
Additionally, there are veterinary treatments available to help manage and reduce the pain, swelling, and other symptoms of arthritis in pets, such as the therapy laser, acupuncture, joint injections, cold therapy (ice packs), heat therapy (such as heating pads, hot water bottles, etc.), prescription medications, and nutrition therapy. Your veterinarian can be your pet's first line of defense to guard against the pain of arthritis at the first signs of arthritis symptoms in your aging pet.
Symptoms of Arthritis in Pets
While each pet is an individual, cats and dogs often experience the painful swelling and tenderness of arthritis as they age. It limits their mobility and causes them to change their behaviors to accommodate their overall achiness. These are a few of the common signs your pet may experience if it has arthritis:
Limping. In some pets, the limp may be more noticeable when they first rise in the morning and less so after they've moved around a bit.
Struggling for movements that were once easy. Dogs, for instance, may suddenly have difficulty climbing stairs or getting into cars. Cats may not be able to jump as high (on the counter, on the bed) or have trouble getting to the litterbox.
Pets may tire more easily. This is easier to determine in dogs who simply may not be up for their previously normal walks.
Pets may become more irritable. This affects cats and dogs, who, much like humans, are easily irritated when experiencing pain or discomfort. Some may even nip or snap at people who pet them or attempt to pick them up in a manner that exacerbates their pain.
Call Ashworth Road Animal Hospital Today!
Working with your veterinarian at the first sign of pain can help your pet lead a more comfortable life much longer and allows you to provide comfort to the pet that has brought you so much of the same over the years. Contact Ashworth Road Animal Hospital in West Des Moines today if you have concerns about arthritis in pets or other health concerns for your best friend.