Understanding Ear Mites
One of the most common conditions dogs and cats suffer from is ear mites. They can quickly make a pet miserable. Since they are contagious, they can make all the other pets in your household miserable, too. Fortunately, there are many effective treatment options available at our office. At Ashford Road Animal Hospital in West Des Moines, we provide the ear mite prevention and treatment your pet needs to live a healthy and happy life.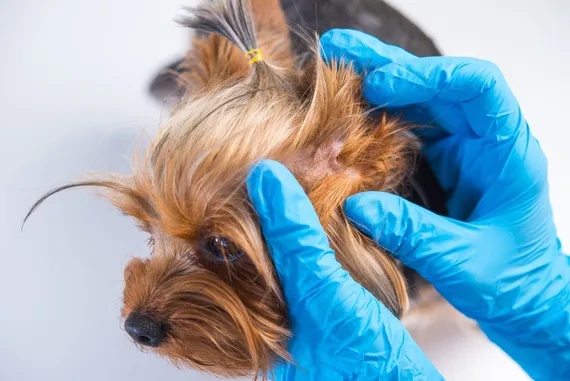 What Are Ear Mites?
Ear mites are tiny white parasites, also referred to as Otodectyes cynotis, that thrive in the warm, moist areas of ear canals. They infect dogs, cats, rabbits, ferrets, and even people. Ear mites live their entire lives on animals. Adults live for about two months, and it takes about three weeks for newly hatched mites to become adults. They live short lives but reproduce quickly.
How Did My Pet Get Ear Mites?
Pets get ear mites from being in contact with animals already infected with ear mites. Pets of all ages are susceptible to ear mites. Since they are so common, ear mites are difficult to prevent.
Symptoms of Ear Mites
The pet will constantly shake its head or scratch its ears. The pet may even rub the itchy areas against the floor. The ears will become crusty. The wax will look very thick and dark. The ears may swell because of the pet's excessive scratching. The pet may scratch the skin open or cause blood blisters around or inside of the ears. Tiny white spots may be visible in the ear wax. Those spots are mites.
Treatment Begins with a Diagnosis
Since symptoms of ear mites are similar to ear infections or other ear problems in pets, our veterinarians will need to study a sample of the ear wax to determine the presence of mites. In heavy infestations, our vets will be able to do this with an otoscope. Otherwise, a sample needs to be looked at under a microscope. If the pain in the pet's ears is too much for it to handle, we may need to administer anesthesia in order for a thorough examination.
Ear Mite Treatment
Injections of ivermectin may be given. Our veterinary office often dispenses topical medication for pets suffering from ear mites. It's important for owners to clean any bedding the pet has so any mites on it are killed.
Contact Our Animal Hospital for Quality Pet Care from Our Veterinary Team in West Des Moines
If you still have questions about your pet's ear mites, contact our professional staff today. We are here to serve pets in and around the West Des Moines, Urbandale, Windsor Heights, or Clive areas quality veterinary care at any stage of their lives. To schedule your pet's next appointment at Ashworth Road Animal Hospital, call us at (515) 225-1807 today.